Analytics
Last updated: April 29, 2022
Empower your teams with our analytics tool, providing near real-time data insights through a suite of boards.
Currently, in the Analytics tab, you can use:
Data explorer to deep dive into the payment analytics that are important to you.
Boards to organize relevant charts in the same space for easy access.
Watch this space for many more exciting features to come.
---
Use Data explorer to build charts and deep dive into payment analytics.
Choose from a variety of data types, such as authorization rate, and visualizations, like bar and donut charts.
When creating a chart, start by selecting the 'Data type' under the heading 'Chart data'. That data type should be the main metric that you would like to analyze. You can choose from count, amount, rates and calculation-based data types.
For example, if you would like to analyze your organization's authorizations, you can choose from either Authorized count or Authorized amount. Authorized count indicates the number of authorizations across the select range. Authorized amount indicates the total value of the authorizations.
The Group by selector under the Chart data heading determines how you would like to measure your chosen data type. For example grouping by currency or card scheme.
If you do not use a group by, you will only view a specific number or rate for your data type. Select + Group by to group by an additional dimension. Select Remove next to a group by to clear your group by selection.
When you select your desired group by, you may be given the option to limit the data points. This is useful when you have a lot of data points and wish to limit the results shown on the chart.
Note
The limit filter is not available when using the Creation date and Decline type group by selectors, or when more than one group by selectors have been applied.
Filtering lets you be more specific with your data explorations. You can decide whether you want your chart to include (=) or not include (!=) your filter. You can add multiple filters by using the 'and' or 'or' operands.
As you start to select your variables, your chart will start to take shape. You can change how you want to view your data by selecting a chart type. The chart types available are depended on the Data type and Group by you have selected.
Charts are interactive – meaning you can hover, highlight and zoom to dig deeper into your chart's data.
Use the date picker to choose what time span you would like your chart's data to display. If you wish to see hourly data points for a particular day, select the date range of one day.
Code viewer allows you to view the query behind your chart.
If you would like to save a chart for future reference, you can do so by saving the chart to a board.
When you select Save chart, you will be prompted to enter a chart title and an optional chart description. Choose an existing board you would like to save the chart to, or select +Create a new board to save a brand-new board.
---
Boards are used to organize relevant charts in the same space for easy access. Create multiple boards to organize your charts and keep track of the metrics most important to you and your team members.
Boards can either be private for only you to see in your 'My boards' list, or shared for other members in your organization to view. This is set when you first create your board, but can also be changed at any time from your board's settings. When you make a board shared, the board will be available to access for users from within your entity.
Information
Making boards shared is a useful way to ensure that work is not duplicated across your team by letting other users have access to your board.
The Preset boards tab displays a list of example boards created by Checkout.com, available to all users. Use these preset boards as inspiration to create your own, or to provide quick insight into your payments data without having to create a board yourself.
You can create a new board by either selecting a template or a blank board from the boards page. A board template is a board containing pre-made charts. After selecting a template, as with a blank board, you will then be able to adjust the board as you wish by editing, adding or deleting charts. A template provides a great starting point to create a board to suit your analytics needs.
You must enter a board title and decide whether you want your board to be shared or private before saving. These settings can be edited at any time in your board settings.
When you have created a new board, you will need to add charts to start analyzing payments data.
Adding a chart to your board can be done in two ways:
After creating a chart in Data explorer and selecting Save chart.
Directly from the board by selecting + New widget / + New chart.
When adding a chart directly from your board, you will be navigated through the Chart builder, just as you have seen in the Data explorer. When adding a chart directly from your board, you will be navigated through the 'Chart builder', just as you have seen in the 'Data explorer'.
A tile separator is a customizable text box widget, which enables you to organize your board. The example below shows the use of a tile separator Acceptance rate, which groups charts related to acceptance rates metrics.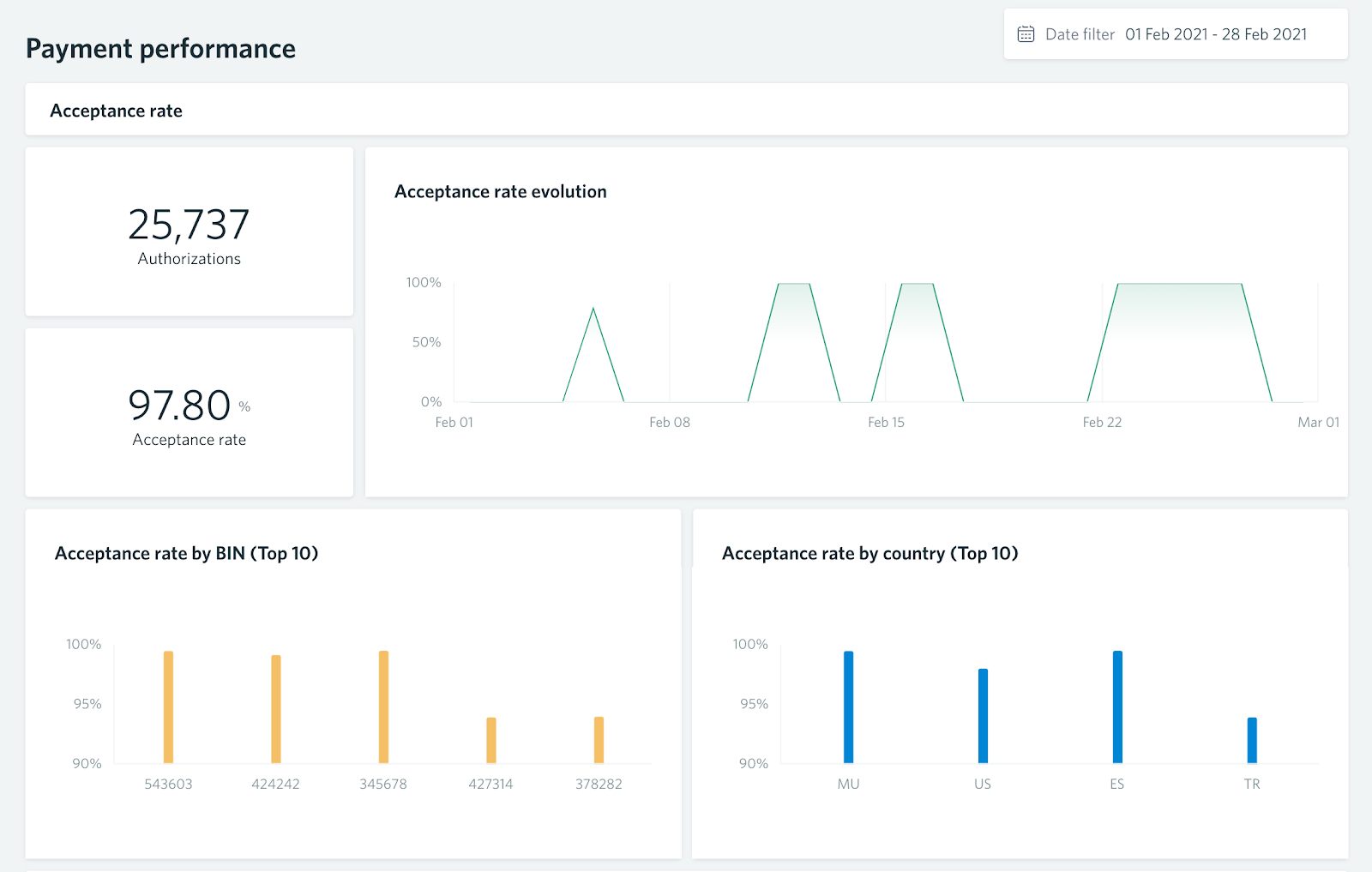 Editing a chart can be done by hovering and selecting the settings icon on the chart you wish to edit. From here, you will be able to edit the chart data, title and description, and delete the chart.
You can adjust the size of a widget by using the toggle in the bottom of the right-hand corner of your widget. Drag this until the widget is the size you like.
Move a widget by selecting the title of the widget and dragging it to the desired area of your board. Your widget's new position will be automatically saved when it has been moved.
Editing a board can be done by selecting the settings icon next to the date range selector. From here, you will be able to edit the board information and delete the board.
Note
You can switch between your client entities to see the data in the board reflect your chosen entity's data.