Best practices for BNPL success
There has been a lot talked about when it comes to buy now, pay later (BNPL) and the potential advantage that it could have for merchants that offer it. However, simply adding a pay later button at the checkout is not enough to ensure you will get enough people clicking through, in the volumes you need, to make it commercially viable.
So, how can you make sure you're attracting new users and not just cannibalizing your existing credit card sales? When it comes to BNPL, there are some key best practices that can help boost conversion and acquisition. Here are five ways to make sure BNPL works for your business.
1. Choose products and suppliers wisely
When deciding which BNPL option to offer, make sure the split rate or thresholds match your price points and your customer requirements. Don't just look at your providers' conversion, order value and volume stats — ask about approval rates and how they compare with other payment methods. Measure, test, and prepare to iterate your BNPL offering until you hit your customers' sweet spot.
BNPL options are also more focused on some industries over others. Depending on your industry, it may be more important that you consider adding it to your checkout. For example, retail has seen real success in offering BNPL to customers. And, more recently, BNPL is expanding in the travel and hospitality sectors. Additionally, in countries where the government does not provide healthcare, BNPL services are being offered on healthcare treatments.
2. Pay attention to the small print
You will also need to check whether or not the BNPL provider is regulated. Additionally, do they have affordability monitoring in place to ensure that customers can afford what they are buying?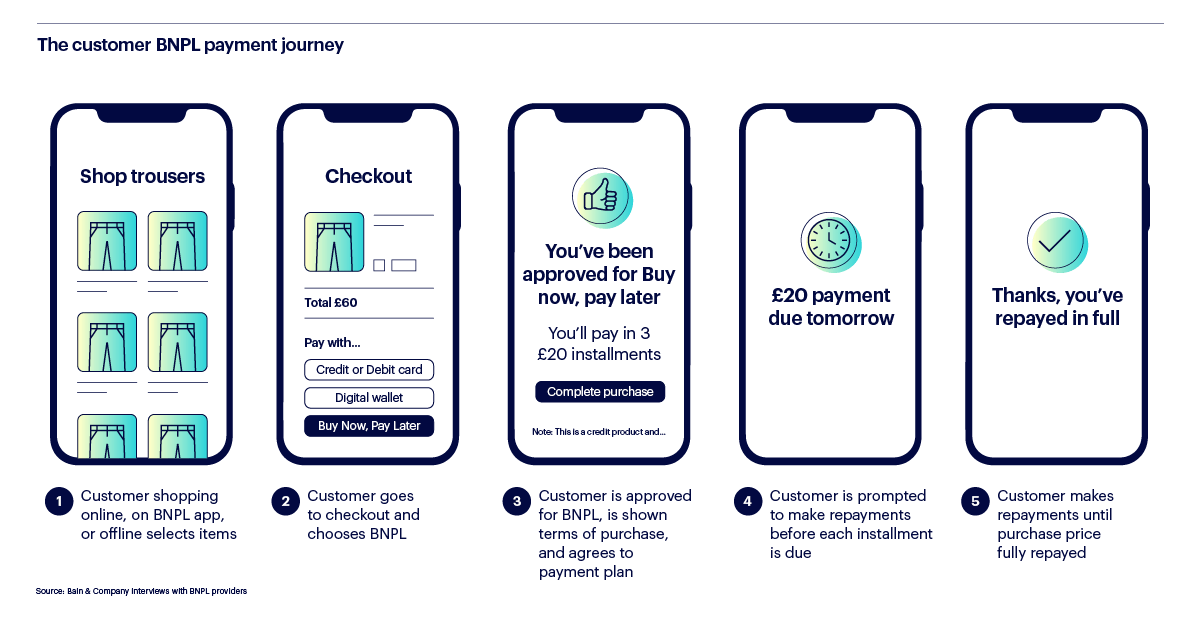 3. Be proactive and offer BNPL early in the payment journey
4. Add pay later as a key message to all your marcomms
5. Take the lead and grab any available co-marketing opportunities
Want to find out more about optimizing BNPL? Read our guide to learn more.