Alchemy Pay aims to make crypto payments mainstream
Ovi: Why was Alchemy Pay founded? What is its mission?
Robert: In 2018 when the company was founded, crypto payment service providers struggled to make crypto payments a reality. Most merchants were unwilling to take on a separate system to accept crypto — especially as crypto was a new concept they didn't fully understand.
We felt we could add value to the market at that point. We launched our crypto-fiat acceptance system in 2019. It enables merchants to accept both fiat and all cryptocurrencies for payments online and in-store (offline) and receive funds in their local fiat currency.
Everything we have done since has provided businesses with convenient, mainstream-friendly ways to onboard users and give cryptocurrencies practical use for payments.
Ultimately, we believe that these practical, mainstream-friendly solutions hold the key to cryptocurrency adoption.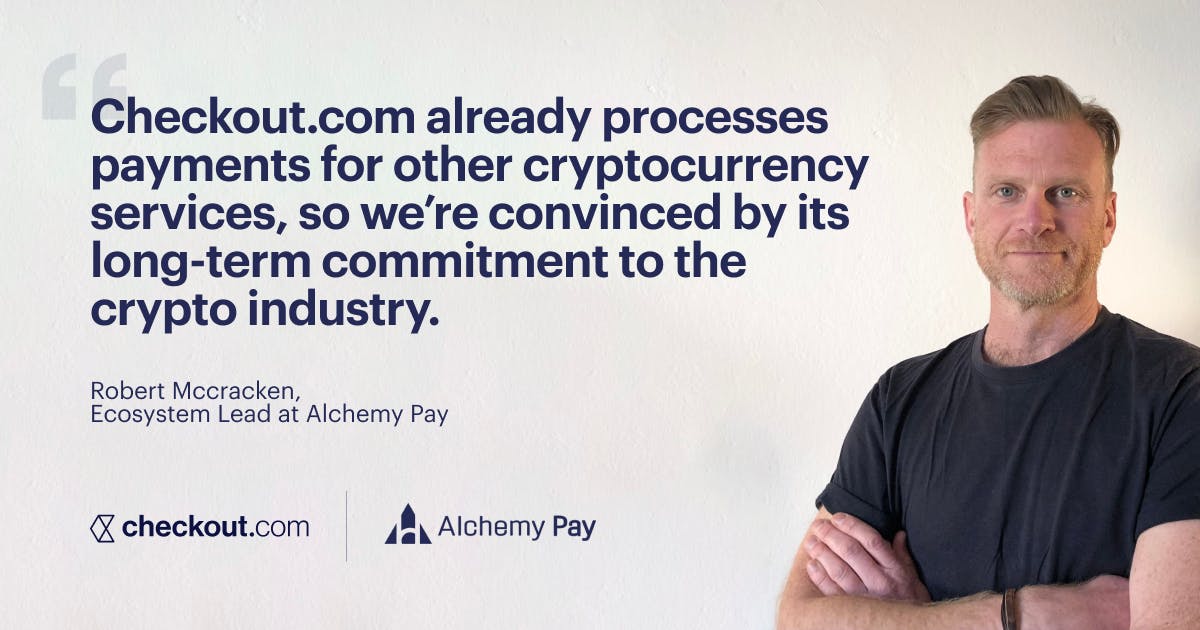 Ovi: What is Alchemy Pay doing to stand out in an increasingly crowded and competitive industry?
Robert: Our partnerships with payment providers, acquirers, OTC and crypto exchanges, and global remittance companies make our work possible. And we believe we have one of the most complete networks of partners in the space.
These partnerships give our solutions global coverage, regulatory compliance, and high functionality. For instance, we offer more than 300 fiat payment rails that crypto and blockchain services use to accept card and APM payments.
Ovi: Alchemy Pay has recently begun working with Checkout.com to enable fiat-to-crypto on-ramps. What were you looking for in a payments partner? And why did you ultimately decide to work with Checkout.com?
Robert: Our crypto on-ramps will provide everyday users with easy, one-step access to cryptocurrency, using their preferred fiat payment method. Checkout.com is a leader in modern payment solutions for businesses and one of the biggest fintech companies in the world. It has high acceptance rates globally and will improve our service across the board. It's a partnership that has increased our capabilities in key markets worldwide, reduced operational costs, and brought new merchants and businesses to our solutions.
Ovi: Tell us about some of your other partnerships and other notable milestones in the company's development.
Robert: The partnership with Binance to provide them with our APIs for Binance Pay in August last year was a big moment for us. So was the signing of our partnerships with QFPay and Shopify, which has allowed us to reach a vast number of new customers.
Over the past six months, we have integrated our payment rails and on-ramps with leading blockchain networks like Polygon, Avalanche, NEAR, Algorand, and VeChain. We continue to build deeper links and enhance our reputation in the industry.
We're pleased with our progress but, of course, always looking for more growth. 2021 was a breakthrough year, and we're excited to build on that success this year.
Ovi: So what's next for Alchemy Pay? How will Checkout.com support the business to achieve its goals?
Robert: In the past two years, there has been a shift in the public consciousness. People are more aware and more interested in what cryptocurrency and blockchain can bring to the world of finance and payments. This shift is driving more demand for our solutions and crypto payments to cross over to the mainstream.
Checkout.com's smooth global functionality and high payment acceptance rates allow us to provide a better service to our clients and prospects. It will ultimately help our business expand our client base and give users a better experience.