Account structure for Integrated Platforms
Last updated: July 26, 2023
Our Integrated Platforms solution is designed to be modular, so there are a number of different resources that can make up your account structure. Use this guide to find out more.
There are currently two different account types available on our Integrated Platforms solution. Your account type is determined during onboarding and depends on whether you require payment capabilities (lite), or payment and payout capabilities (full).
Lite: Your sub-entities will undergo card scheme screening (CSS) checks only, and if successful their payment capabilities will be enabled. All funds are settled to your platform as per the frequency agreed during onboarding.
Full: Your sub-entities will undergo CSS, politically exposed persons (PEP) and sanctions, know your customer (KYC) and know your business (KYB) checks. If successful, their payment and payout capabilities will be enabled. Funds are paid out using our payouts solution from your sub-entity's currency account to the bank account of your sub-entity.
Select the tabs below to find out more.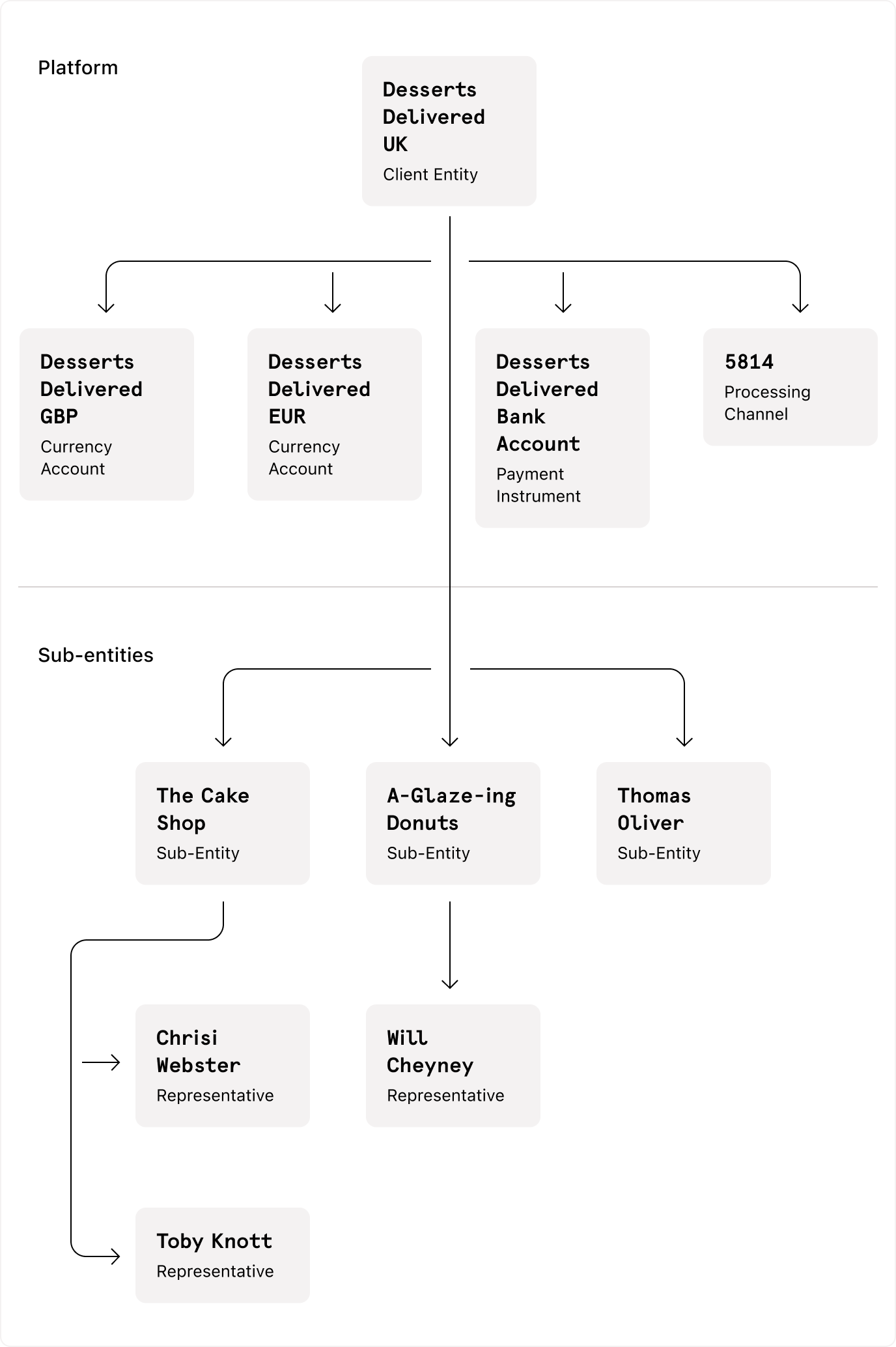 All funds are routed to your platform's currency account
Any applicable fees are charged to your platform's currency account
Funds from sub-entity payments are routed and held as per the currency preferences you set during onboarding
There are different resources that make up an account structure – we describe each of them below.
Resource
Description

Entity

Within your account, you will have one or more legal entities representing your platform, each having a contractual relationship with Checkout.com.

For example, if you have separate legal entities for your European and North American operations, this would be represented by two separate platforms in your account – each with their own configurations.

Sub-entity

All vendors, retailers, and service providers that sell on your platform are called sub-entities at Checkout.com. A platform can have one or more sub-entities.

Sub-entities can be either an individual or a company.

Sub-entities are onboarded by your platform via the Accounts API.

Currency account

A container of funds (similar to a digital wallet), enabling the receiving and holding of funds in a designated currency.

Marketplace

A platform that enables customers to complete transactions with multiple retailers on a single website or application.

Payment facilitator (PayFac)

A third-party services provider that acts as an intermediary between merchants and payment processors. Unlike a marketplace, a PayFac connects one merchant to one customer at a time.

Payment instrument

A set of bank account details securely stored in our vault, which can later be used as a destination when making payouts.

Processing channel

A processing channel is a container of settings that enable you to process payments for a particular industry. Industries are classified by merchant category codes (MCCs).

A processing channel is required for each MCC you wish to process payments under for your sub-entities. It must be supplied when making payment requests.

Representative

Sub-entities that are companies will have – what we call – representatives. Representatives are shareholders or ultimate beneficial owners (UBOs) who own ≥25% of the company or voting rights. If there are no UBOs who own ≥25% of the company, the representative(s) should be an individual with the right to sign on behalf of the company. We require information about these representatives during onboarding.