What are alternative payment methods and why do they matter?
'Alternative' generally means unconventional or outside the mainstream. It's something niche, specialist or with a small yet devoted following. When it comes to payments, however, 'alternative' is a misnomer. In some markets, alternative payment methods are more mainstream than niche.
In this article, we go back to basics to explain:
What are alternative payment methods?
Why have alternative payment methods emerged?
What are some examples of alternative payment methods worldwide?
Why do alternative payment methods need to be a consideration in your payment strategy?

What are alternative payment methods?
Alternative payment methods — APMs for short — refer to any form of payment that isn't cash or a major international credit card brand.
Domestic cards, cash-based vouchers, digital wallets — such as Apple Pay and Google Pay — or bank transfers, including iDEAL in the Netherlands, POLi in Australia and New Zealand, and Przelewy24 in Poland are all considered alternative payment methods.
And that's precisely the point for businesses looking to attract customers globally. Selling online to consumers without accepting their preferred payment method is akin to leaving money on the table.
A whistle-stop tour of popular global alternative payment methods
There is no single, global way to pay. Every country has unique banking rails, payment methods, regulations, requirements and licensing. Payment habits also develop over time and are often formed by various cultural, political or economic and technological factors.
North America
South America
Europe
Africa
Middle East
Asia Pacific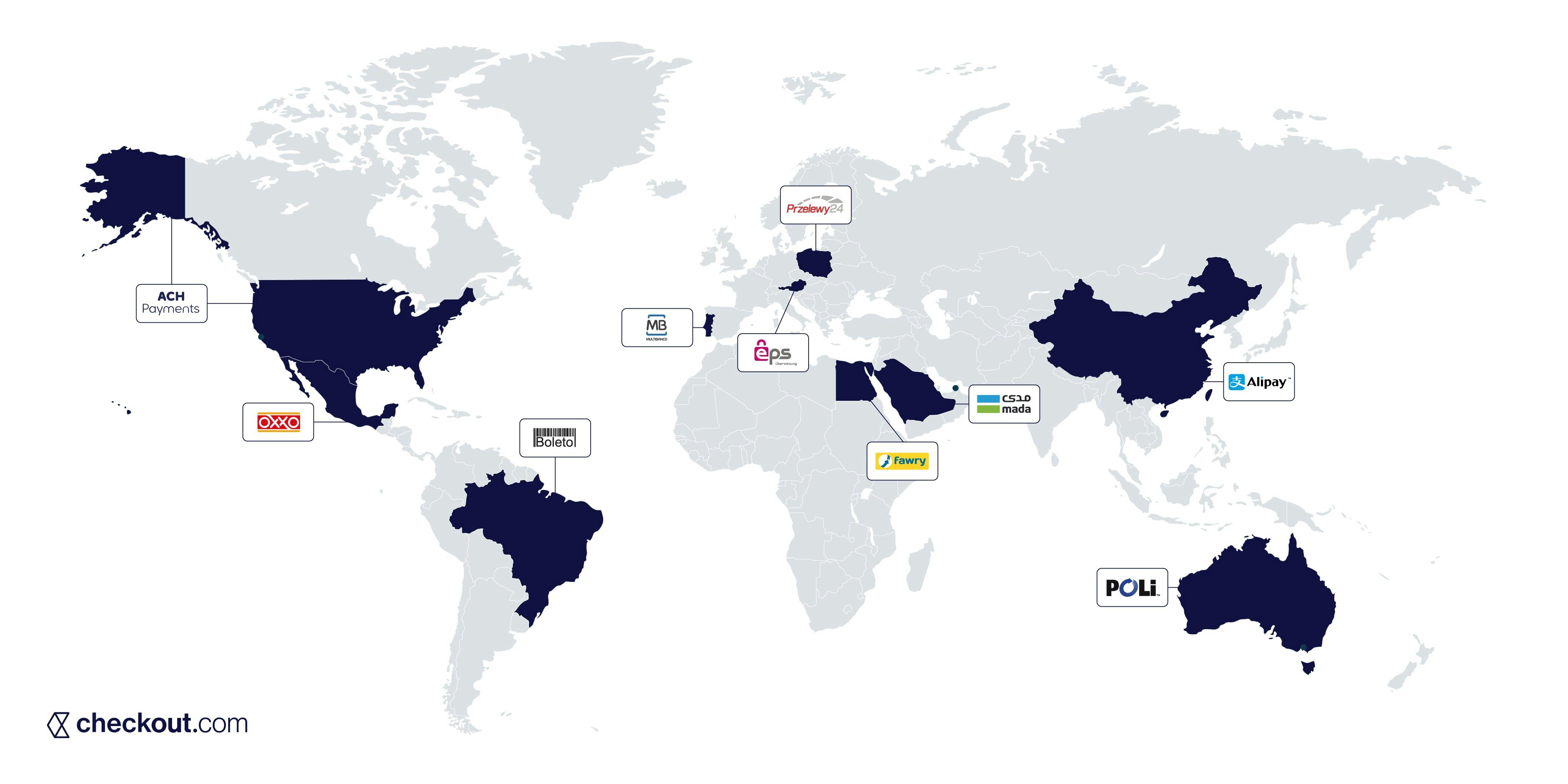 Why do alternative payment methods need to be a consideration in your payment strategy?
Alternative payment methods must be a key part of your payment strategy. Customers like what is familiar. If they usually pay a certain way, why would they do something new to shop with you? When convenience is key to closing sales, why add extra payment friction and hassle? Let them pay their way, wherever they are.
And it's not enough to be reactive. You're too late if you only start offering APMs when they reach critical mass. By this point, your potential customers will already be spending money with your competitors that catered to their needs sooner. Instead, you must be proactive and work to get a deep understanding of the direction local trends are heading so you go beyond their expectations, delivering frictionless, first-class payment experiences.
The challenge for merchants is knowing where to start getting this information. Nuances in the way people pay are subtle and not always apparent at first glance. And that's where it helps to partner with experts who have that deep understanding of the local markets you operate in and work with you to understand and develop strategies to capture opportunities ahead of your competitors.
You also need to make sure that your payments technology stack is suited for your business — allowing you to add new payment methods at speed and without creating additional complexity. Not all payment providers can do that. So make sure that you're working with a provider that gives you the international coverage you need, as well as capabilities to adapt and evolve as your business develops.