Announcing Checkout.com's new Demystifying Crypto report
At Checkout, we're committed to enabling businesses like Blockchain.com, Crypto.com, Farfetch and Sony to thrive in the digital economy. That's why, for the past few years, we have been tracking sentiment and behavior around crypto.
As cryptocurrencies have risen in demand, they've shifted from simply a store of value, to a form of payment that customers say they would like to use for everyday goods and services. We wanted to dig in deeper, beyond the headlines and hype, to look at the behaviors and sentiments that lie behind this burgeoning market.
We surveyed 3,000 businesses and 30,000 consumers worldwide to help us look more closely at the use of cryptocurrency in payments today and the key implications of this shift for merchant businesses.
We found several areas of innovation that stood out across commerce, corporates and culture. Here is a selection of the main takeaways from the report.
1. Commerce
There's been a sharp rise in people wanting to use cryptocurrencies as a means of payment. That growth looks set to continue this year, with 40% of 18-35-year-old consumers citing their desire to experiment with using crypto as a payment method. That's up from less than 30% last year, marking a notable shift in how consumers are thinking about using cryptocurrencies.
Curiosity amongst businesses around whether or not they should accept crypto payments is also increasing. Those who've already taken the leap are seeing impressive results. For instance, over 80% say offering crypto has attracted new customers. A similar number says they've observed a decrease in chargebacks, while just over 60% have seen higher authorization rates accepting crypto payments.
This success has led 77% of businesses that accept crypto to double down, iterating and experimenting with different coins to see which has the most benefits in attracting more customers and operational efficiency.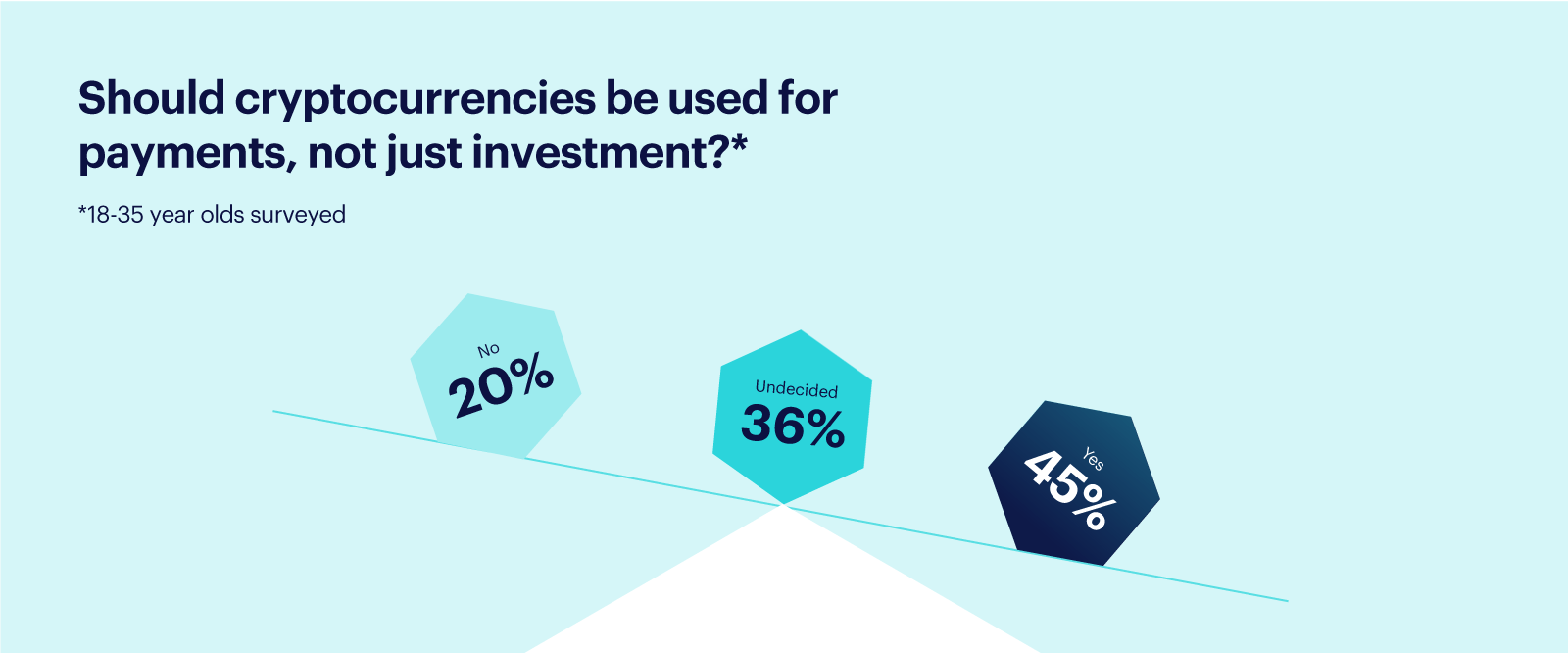 Despite the curiosity on both sides of the transaction, crypto still has some way to go before crossing the chasm to become a widely used payment method. Trust and understanding of crypto particularly remain a significant barrier for many consumers. Consequently, a full-scale Web3 revolution looks highly doubtful. Instead, it's more likely that we'll continue to see a convergence of Web2 and Web3, powered by those building the bridges between the two worlds.
2. Corporates
While the use of crypto on the front end steals most of the headlines, some of the most impactful trends center around how businesses are considering using crypto and blockchain technology to drive operational efficiencies and cost savings.
For instance, 69% of the businesses surveyed said the speed with which crypto payments can be made and settled has the potential to revolutionize their business models. Meanwhile, over 80% also said they thought it was easier to settle than using fiat currencies. And 76% say accepting payments in crypto enables real-time accurate revenue sharing while enhancing transparency to facilitate back-office reconciliation.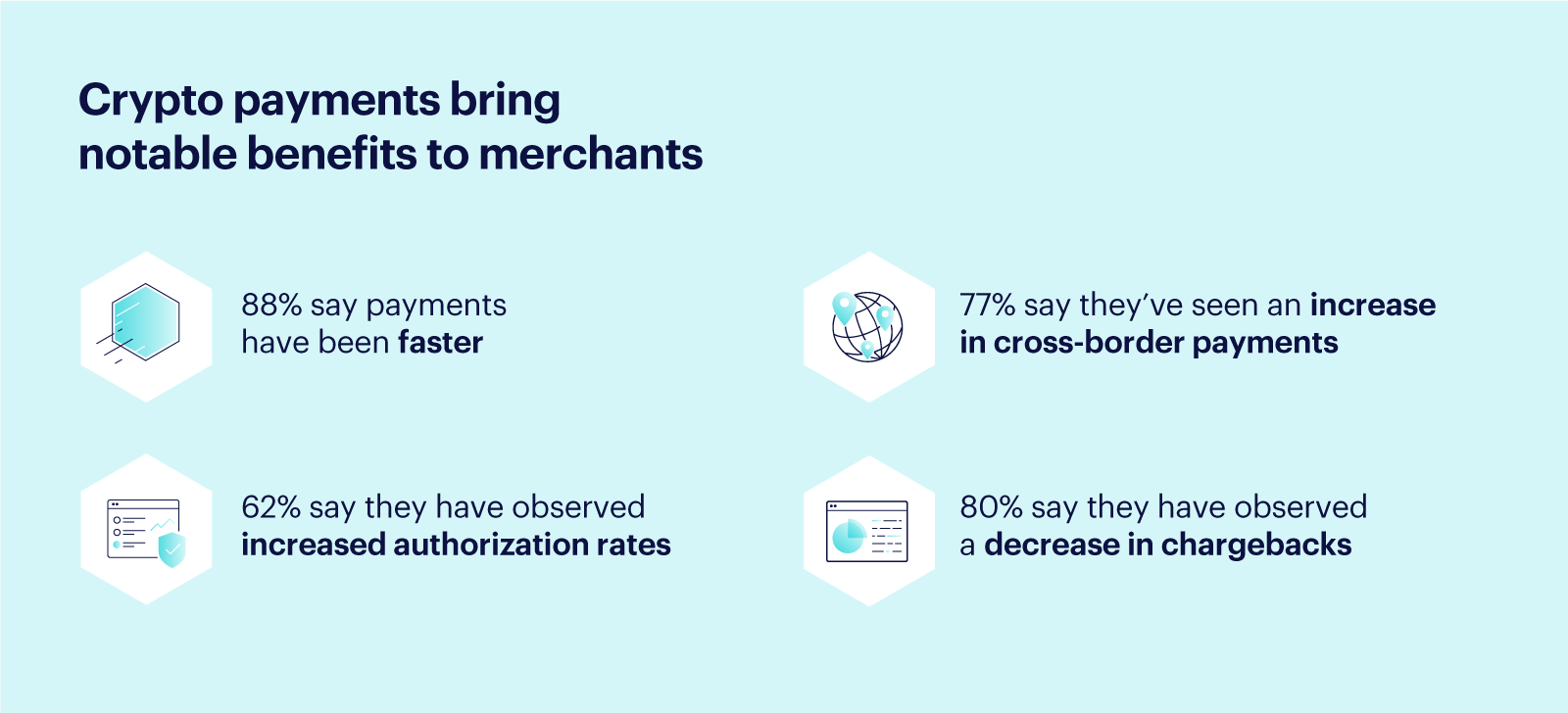 Naturally, businesses still have concerns about how regulation will impact the crypto space. It's therefore not surprising that a lack of a clear regulatory framework is the number one reason businesses cite for not using crypto.
3. Culture
This is just the beginning. New digital cultures are emerging every day, stretch-testing what's possible when using tokens and crypto as money and helping to shape tomorrow's mainstream use cases.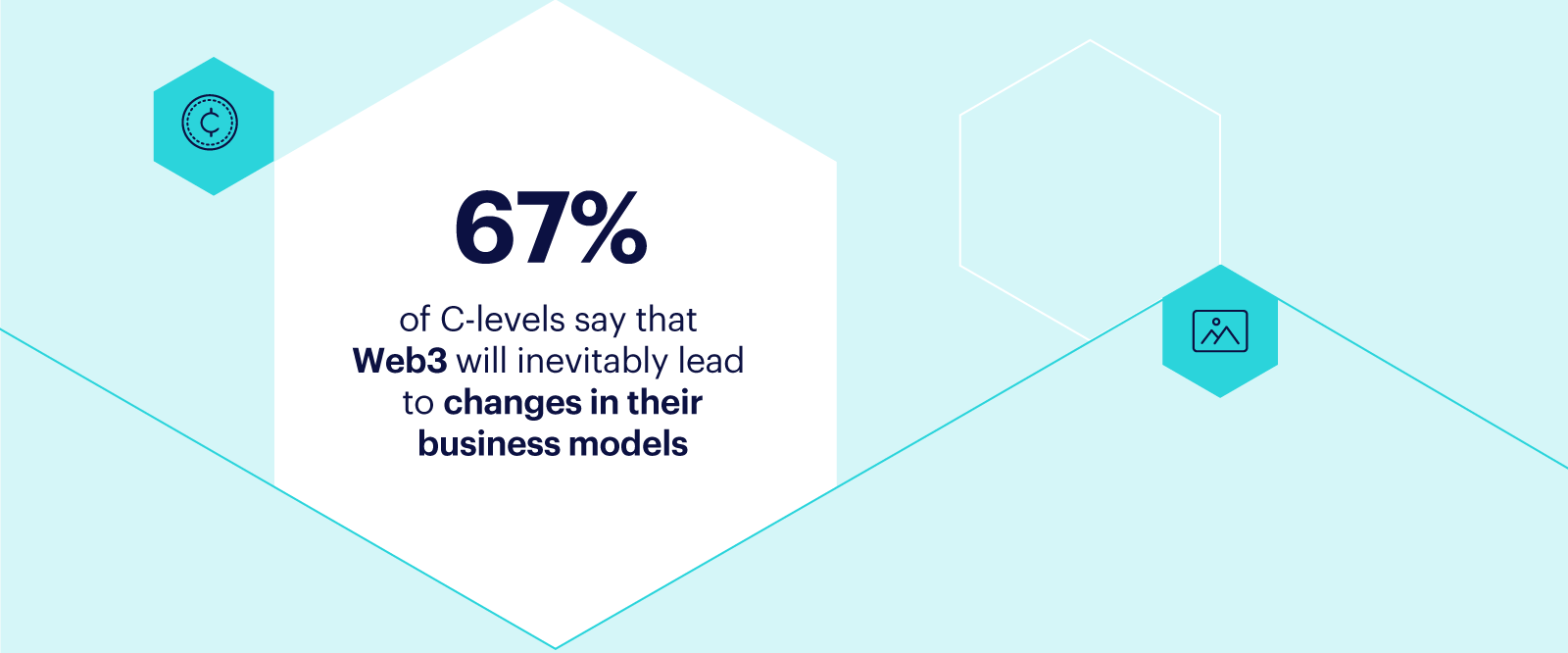 And business leaders are watching closely. Some 65% of C-level executives surveyed believe that Web3 will change the B2C dynamic as consumers become creators or owners (of data). At the same time, 67% of C-levels say that Web3 will inevitably lead to changes in their business models.
A practical, pragmatic and positive future for crypto