What is a Central Bank Digital Currency?
Central banks do also produce digital money: the reserves held with them by regulated financial institutions. Up until recently, however, this hasn't been available to the wider public, and in most countries, this is still the case. But CBDCs are changing this.
CBDCs are an electronic form of central bank money that is available to the general public and non-financial businesses to make payments and store value. Unlike cryptocurrencies, they are issued and fully backed by central banks, so carry the same stability and value as the fiat currency in their country of origin. But instead of cash, they're digital tokens.
How is a CBDC different from a stablecoin?
Either way, in a CBDC model, control of underlying technology and the ability to create and 'destroy' tokens reside with the central bank, most likely on the basis of a clear legal and regulatory framework.
Another difference is how they hold their value. CBDCs are the tokenized version of their country of origin's fiat currency. Like cash, they are fully backed by the issuing central bank, which will typically be mandated to maintain the value of that fiat currency, and publicly accountable for its activities.
Private stablecoins, meanwhile, seek to overcome the price fluctuations associated with other crypto assets by pegging their value to another asset, most commonly a national fiat currency. Stablecoin issuers have backing assets in place, so their users can redeem any coins they hold in fiat currency when they want or need to.
Types of CBDC and key use cases
CBDCs should be seen in the context of a central bank's core payment-related functions: providing its country's unit of account (i.e. its fiat currency), ensuring final settlement of payments between its financial institutions, and overseeing the smooth working and integrity of its country's payment system.
As part of this central bank framework, it is envisaged that different types of CBDC would be used for specific circumstances. They fall into two main categories: wholesale CBDCs and retail CBDCs.
What is a wholesale CBDC?
Wholesale CBDCs would be used to settle interbank transfers and other wholesale transactions between regulated financial institutions, domestically and potentially across borders. They would operate similarly to financial institutions' existing reserve accounts with central banks. But they might also enable new forms of conditionality, such as final settlement of a payment or transaction being dependent on the delivery of a separate payment or asset. As such, they could improve the efficiency, safety and speed of wholesale payments.
What is a retail CBDC?
Retail CBDCs are essentially a digital form of fiat currency, intended for use by people and non-financial businesses to make and receive payments. They could be structured in two ways, offering either token-based, anonymous access to users, or account-based access rooted in verifying a user's identity through some form of digital ID scheme. They offer the potential for transactions that are person-to-person, person-to-business, and even government-to-person.
CBDC use cases
There are some additional areas where CBDCs can be used.
Global commerce: CBDCs could open foreign markets to businesses and consumers by enabling quicker and easier cross-border payments. This could be achieved, for example, through 'multi-CBDC' arrangements, involving the coordination of CDBC standards and regulation, technical interfaces between different CBDC systems, or even a shared system for multiple CBDCs.
Emergency use: During unforeseen circumstances, like a global pandemic or a natural disaster, governments can use CBDCs to distribute emergency funds quickly to those in need of financial support.
Financial inclusion: CBDCs could bring more unbanked people into the financial system, by offering them the ability to make digital payments without a conventional bank account, and also potentially the capability for offline peer-to-peer digital transactions.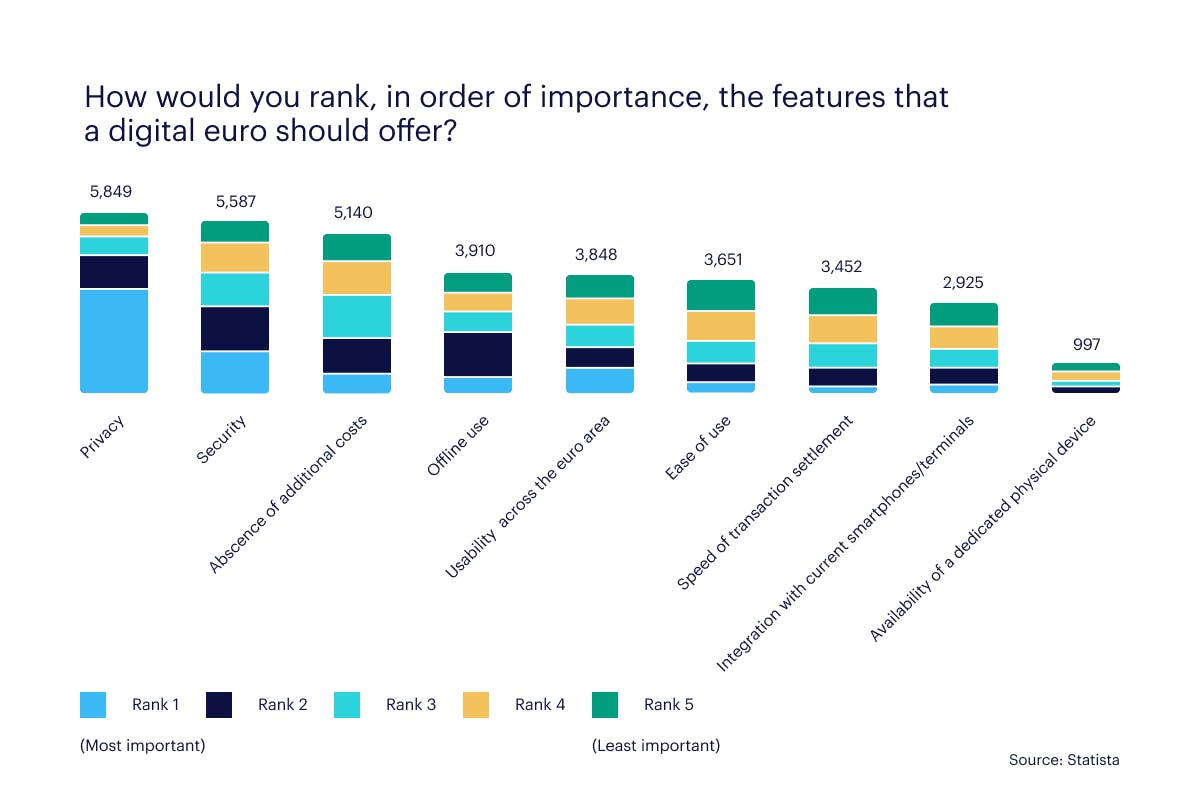 What countries are exploring CBDCs?
There are close to one hundred countries around the world studying CBDCs. Nine of them have already implemented their use. This includes several countries in the Caribbean and Nigeria.