How retailers should take advantage of the boom in online shopping
That presents a huge opportunity for online retailers. But also threats. Bigger markets attract more merchants. Some will be hungry starts-up, full of innovation and the agility to act fast. Others will come already armed with scale and the ability to outspend and outpace their competition. The average cost per acquisition for ecommerce increased by 18.75% in April 2021 compared to 12 months before.
Two things matter for retailers right now. Understanding where they can assert advantages and actioning those plans faster than anyone else.
On the former, growth can be a complex interplay of forces. Scaling an online retail business means having a sophisticated marketing operation, a robust supply chain, trusted networks of fulfillment partners and well-resourced back-office functions, to name a few. Investment in any should reap rewards. Likewise, ignore just one, and everything is likely to fall down.
Payments is another area where forward-thinking online retailers are focussing their attention. The last decade — and in particular the last few years — has elevated payments from financial afterthought to a core lever of growth, able to impact everything from new business to operational costs.
Navigating regulation
For merchants, growth means expanding and deepening their presence in new markets. But that can be complex as each country's regulations must be understood and complied with.
That often means having a separate bank account there, which first requires creating a new legal entity, something that comes with a number of arduous requirements that businesses must adhere to. Charging the right amount of retail tax and the rules for submitting those returns also differs wildly between jurisdictions. And, if you're not charging in the local currency, how you reconcile FX conversion both at the point of payment and when patriating revenues and profits has implications; not just regulatory but also financial.
Customer preference
Payments are not simply about processing transactions. Let customers pay how they want, and they're more inclined to shop with you. The reverse is also true; 60% of ecommerce consumers will abandon their cart if they cannot pay with their preferred payment method.
That's easier said than done. Alongside the established card networks, a range of new payment schemes are emerging. The convenience of digital wallets makes them a popular choice. 'Buy Now Pay Later' schemes are also finding armies of advocates around the world. Crypto isn't far behind. And then there is a myriad of local payment schemes that truly customer-centric merchants should be tapping into.
Accessing these schemes is only half the story for merchants. Knowing which to prioritize, and where, is just as crucial. Flexibility matters. Especially when payment preferences differ wildly from market to market. It's also affected by the device a customer is shopping with. And even a customer's age, gender or the product they're buying. Getting insights into these consumer behaviors is vital for any merchant looking to serve customers a curated list of payment options.
Some have already felt the pain of not being able to do so; 43% of retailers admit to having been unable to benefit from surging demand in some markets because they could not offer the most effective payment method.
Checkout conversion
But convenience is about more. Customers who are served up a payment page in the wrong language or with the wrong currency could quickly become disengaged. Merchants don't seem to have caught on—almost three-quarters of European retailers do not have payment pages in local languages.
Sometimes, it's about what you add. Product recommendations can grow a basket, while tailored discounts and offers may be the final push a shopper needs to convert. The prize is immense. Research by Accenture estimates that digital personalization in ecommerce could unlock $2.9 trillion for retailers within 10 years.
Payment acceptance
Though payments should be seen as an end-to-end process, it's at the approval stage when most can be won, or lost. Here's where the cost of sale has been maximized, with no revenue to show for it yet.
The first step for merchants is to understand their payment approval rate. When they do, they may be shocked; only 31% of online retailers have an acceptance rate of 90% or more. The next step is to measure how many are false declines. In the U.S, U.K, Germany and France, ecommerce merchants lost $20.3bn in sales in 2019 because of payments that should never have been rejected. Of this, $12.7bn went to competitors.
Retailers should also listen to what their customers want. In APAC, 68% of consumers say they have abandoned their cart because they didn't feel confident in the security of the checkout. In Hong Kong, this rockets to 90%. Moreover, tighter security is more highly valued than other checkout elements, such as saved information, an optimized screen size, access to local payment options and speed of completion.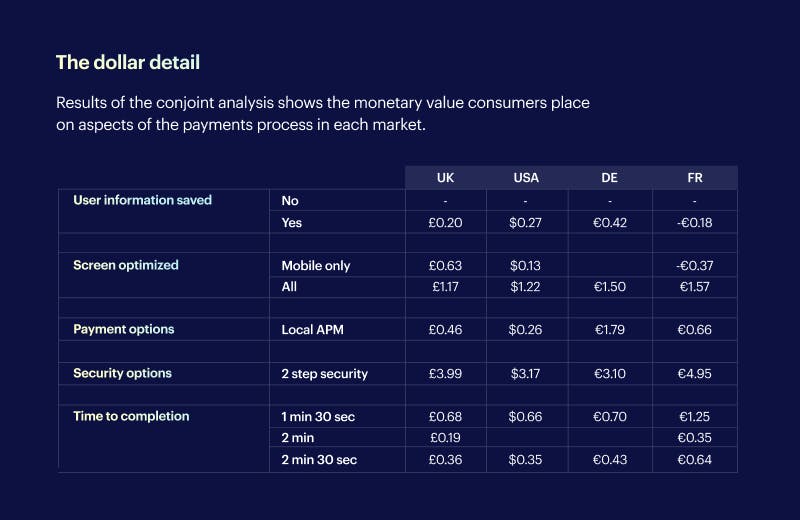 Act locally to achieve global success
The pandemic-induced boom in ecommerce has seen a decade's worth of progress take place in less than two years. A fresh wave of online shoppers pledging loyalty to brands is underway. By winning these customers today, merchants set themselves up for years of sustained success.