How can European retailers unlock growth opportunities in the Middle East, North Africa and Pakistan?
The ecommerce boom driven by the COVID-19 pandemic has created ample opportunities for European retailers to tap into new markets and grow their business. Our latest research report exploring the state of European retail reveals that 96% of consumers in the UK and Europe shopped online during the pandemic — up from 60% in 2019.

And while there is plenty of room for growth on the continent, opportunities also exist beyond its borders.
Like Europe, the way consumers in the Middle East, North Africa and Pakistan (MENAP) shop has transformed in the past eighteen months. Consumers are now spending significantly more online and are also purchasing a wider variety of products and services. This behavioral transformation, combined with strong demand for European goods and services, makes the region ripe for expansion.
So, how exactly can Europe's progressive online retailers position themselves for success in MENAP? Here are three aspects to consider.
1. The growing popularity of digital payments
This shift to online commerce — coupled with new hygiene concerns around cash brought about by the COVID-19 pandemic and various government initiatives — has also been the catalyst for rapid growth in digital payments.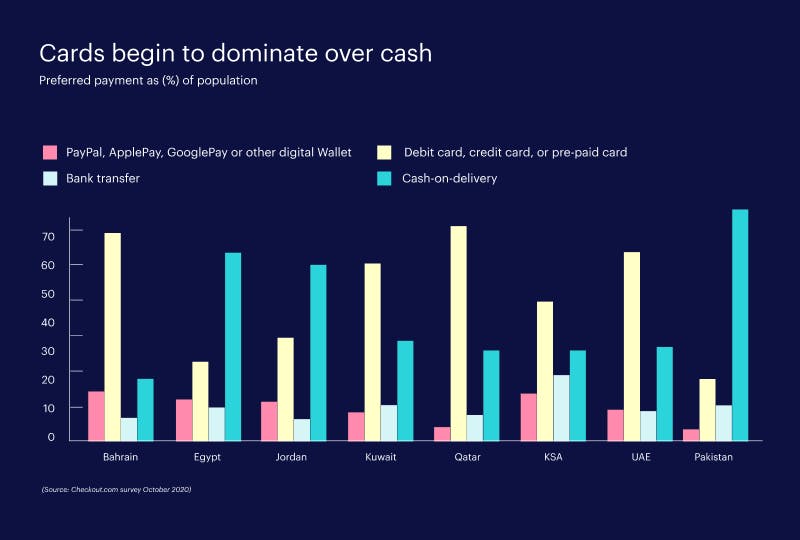 As Mo Ali Yusuf, our MENAP Regional Manager, explains: "Many traditionally cash-centric countries in the Middle East are now converting to higher rates of digital payments. The pandemic has spurred a payments revolution of sorts, and it's not going away."

2. The growth of commerce on mobile devices and social media
Indeed, many online consumers across MENAP have bypassed traditional ecommerce on laptops or desktops and shop predominantly through mobile devices and channels. Forty-five percent of online consumers prefer to purchase products or services via an app. And 14% are most likely to shop on social apps and shoppable adverts.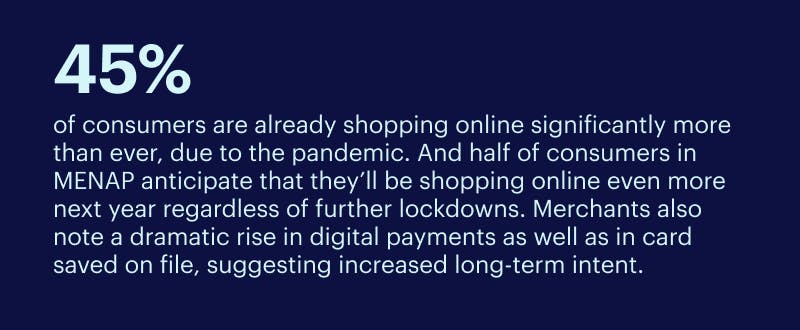 Read more: what are payment links?
3. The need for an agile and adaptable approach to payments
Given its complexity, European retailers need support from partners to find success in the region, especially when it comes to payments. This means merchants must ensure their payment provider has the coverage, local connections, compliance tools, payment methods, data and the infrastructure required to scale at speed.
An ideal payments partner should also have on-the-ground teams with deep local expertise. The tailored advice and insights they offer can provide retailers entering the region with a strategic advantage as they'll be able to help them solve issues quickly and capture growth opportunities as they arise.
Unlocking MENAP's growth opportunity