In this article, we explain:
How credit card processing works
How credit card processing differs to debit card processing
How digital wallets work
How to optimize your checkout
How does credit card processing work?
There are various parties involved in credit card payment processing, but the four main ones are:
The merchant: Who accepts cards to make sales
The acquirer: Who enables merchants to accept payment for goods and services
The cardholder: Who uses the card to make purchases 
The issuer: Who provides customers with cards.
That's why you'll often hear the terms 'four-party' or 'four-corner' model in this context. Visa and Mastercard operate a four-party model. As card schemes, they sit at the center of their networks, connecting participating issuers and acquirers.
When the credit cardholder enters their card details into the online checkout page and clicks 'pay', what happens next?
First, this information goes to the merchant's acquirer or merchant's bank. Then, the acquirer forwards this message to the relevant card scheme. The card scheme passes this to the cardholder's issuer, who has two important questions to answer.
Is the cardholder who they say they are? (authentication)
Are they good for the money? (authorization)
If the cardholder is legitimate and funds are available, the issuer confirms this to the card scheme, who passes the approval response to the acquirer.
Finally, the acquirer passes this message on to the merchant, who confirms a successful payment to their customer, dispatches the goods or provides the service.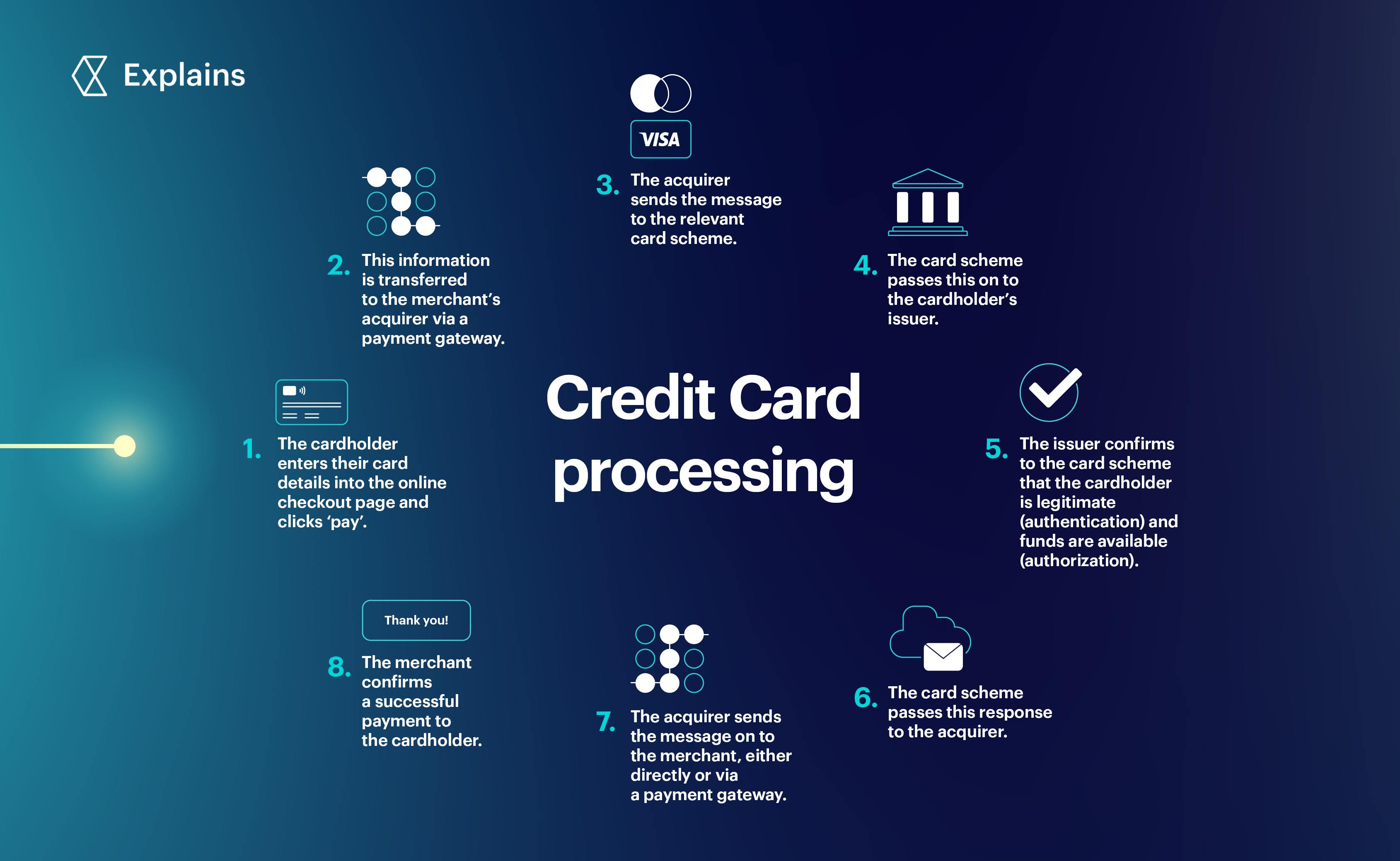 How does credit card processing differ to debit card processing?
Debit card processing works in a very similar way to credit card processing. The principles are the same, however the execution may differ locally. 
Some domestic debit cards are co-badged with international card schemes, which enables the cards to be used outside their home market. In these instances, they are generally processed via their domestic card networks for purchases at home. And via the international card networks for purchases abroad or for ecommerce purchases when the merchant is in a different country to the cardholder.
Another difference is that credit cards may be blocked by country or sector. UK credit cards are not allowed to be used for gambling, for example. Card issuers and local law determine how and where cards are blocked.
Generally speaking, though, cards, both credit and debit, allow businesses to sell to anyone, safe in the knowledge that they'll be paid, provided they've done things right.
How can you optimize credit card processing?
Offering credit card payments is only one part of giving your customers the best possible experience. Ensuring that customers are able to successfully checkout is the other part.
Benchmark your authorization rates and fraud ratios to put your performance in context. How do these KPIs compare with industry peers? Your payments provider should be a great source of insights into what those with solid performance are doing that you're not.
You should also take action by analyzing failed transactions grouped by rejection reason. You can then explore each group to see whether the systems have correctly rejected the transactions. If they have, you can start to make the tweaks required to minimize false declines and A/B test repeatedly to drive continuous improvement.