A bold move: How we reimagined our brand
When is the right time to re-develop a successful brand — to put it under the microscope and be prepared to make big changes, if necessary? It depends where you are in your journey. And for us the time is now.
You may have noticed some dramatic differences in the Checkout.com brand in recent weeks, and it runs much deeper than a re-skinned website. As Erin and Kasey explain, it's about natural progression and an evolution that reflects the transformation of our company and our products. Our clients' needs and the solutions we provide have evolved radically, so our brand needs to do the same.
It's been a successful 18 months for the company, and the future looks bright, so why change the brand now?
Erin: We've always been true to who we are and held the same values. But we wanted to express ourselves more clearly so people outside of the business could really see and feel this. We wanted to reflect our commitment to innovation, our bold attitude, and forward-thinking approach to payments — to help merchants understand the value that Checkout.com can bring to their businesses. We needed to demonstrate how payments have gone beyond the silo to become a source of innovation and growth. That's vital for connecting with our progressive, innovative enterprise customers. But our brand needed more than some new copy and a paint job. We had to go back to the beginning. To redefine our brand fundamentals — our reason for being, our vision, and what we stand for — before we could create an identity that showed who we really are. That required more thought, deliberation and imagination than ever.
Kasey: Our clients are always moving forward at the edge of what's next in payments. We're right there with them and want a brand that reflects that, so it needs to be dynamic and responsive. And as we continue to grow and put our brand on the global stage, it needs to be differentiated and memorable. We wanted to create ownable assets that could bring our brand narrative to life and grow with an expanding product offering. That means being both expressive and impactful.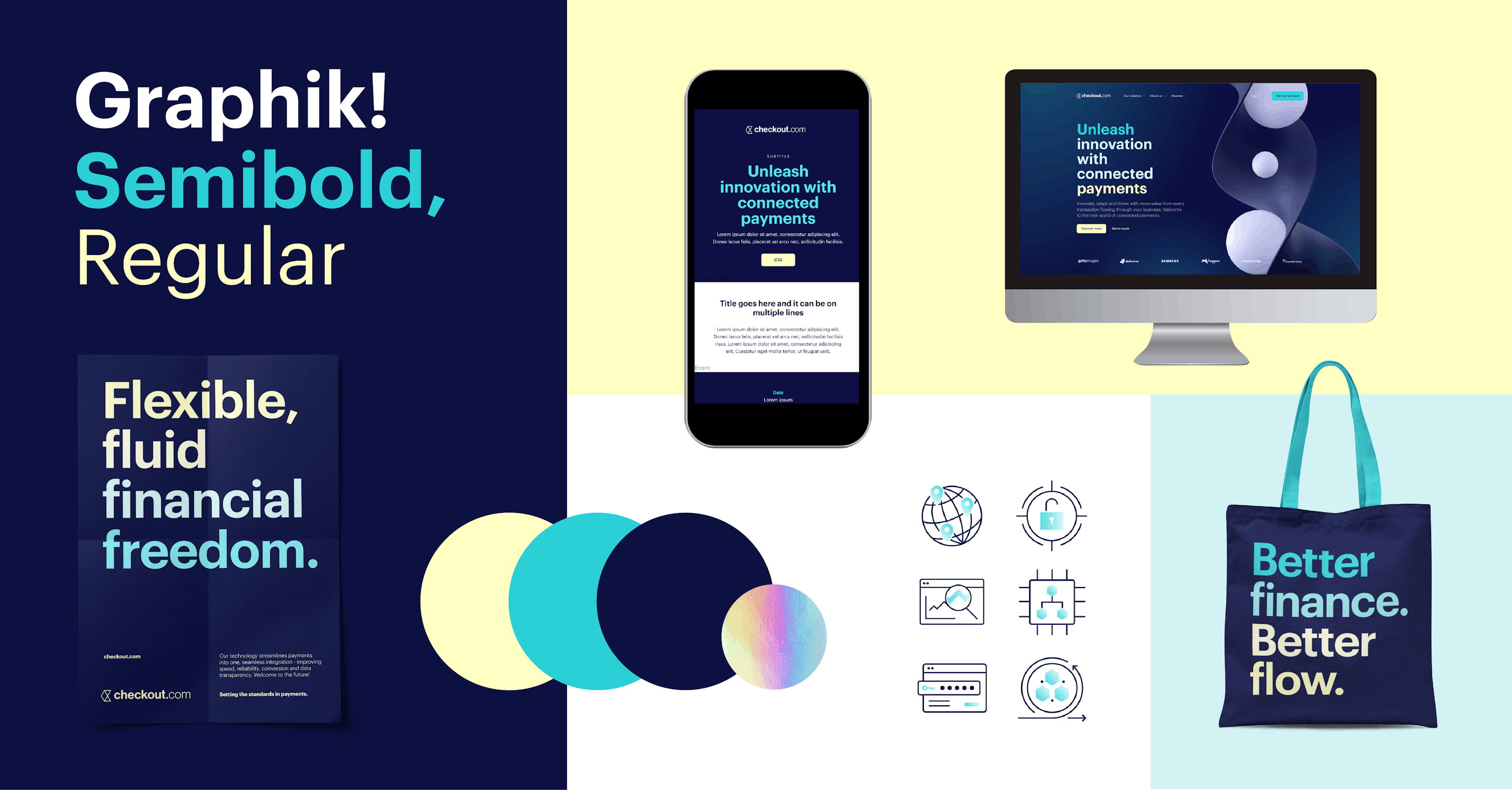 'Rebrand' can mean different things to different people. For some, it's purely about colors and fonts. For others, it means redefining a business's very reason for being. What approach did you take and why?
Kasey: Internally, we felt very clear about the vision for the products we were building and the philosophical approach to how we build those products, but we weren't always reflecting that to the outside world. We had to dig deep and ask ourselves: How do we want to be seen and what do we want to say? Why do we exist? 'Cut through banking's complexity and empower businesses to change the world' and our purpose as 'Building the banking business deserves' were real breakthroughs. From there, we created a comprehensive brand platform which articulates what Checkout.com stands for. This includes our new brand attitude of 'fearlessly innovative', 'experts' expert', 'confident and assured', and 'passionate and upbeat'. We've brought this to life through a strong visual identity and tone of voice that are instantly recognizable and strategically sound, setting us apart from our competitors, and having the stretch to meet all our future brand needs.
Erin: We wanted it to feel authentic to who we are — how we solve problems, serve our clients, and see the future of connected finance. We're passionate about our work and committed to pushing the boundaries, so we wanted that to come through. The payments landscape is ever-changing and, as a result, so are we. Our brand needs to be able to reflect our evolution from unified payments to connected payments to connected finance and, finally, to the future of banking.
Checkout.com serves a wide range of enterprise merchants — from digital native leaders to longer standing businesses going digital — with vastly different needs and expectations. How did you make sure the brand could connect with diverse audiences and not feel like any other fintech?
Erin: B2B marketing, especially for enterprises, tends to be a little more conservative. We needed to reflect our bold, innovative approach and point of view but also retain that vital trust. So we made sure the brand could flex from fearlessly innovative at one end to more the expert's expert at the other. We also had to be honest about who we are. We're the bold option. The bold partner. We're willing to push the envelope with merchants in a way no other payments provider will. And that means accepting we can't be everything to everyone. That was a big mental challenge to overcome, but we knew we would be a stronger brand because of it.
Kasey: It's easy to take the 'safe' and 'corporate' route, or create something similar to what's trending in the industry. But we recognize the lines between B2B and B2C organizations are becoming increasingly blurred. Organizations are made up of people, so we always want to communicate in a way that connects the head and heart. But we also want to show that we've got our merchants' customers and their experience in mind. So we looked for a strong creative idea to help us achieve both these things. And we decided the concept of connectivity, movement and flow was the compelling and meaningful thread we needed. Everything flows when things are connected — data, insight, innovation, communication, value and growth. Seamless payment experiences are flowing. Our technology is also fluid, it can be easily shaped for the business's needs now and in the future, from connected payments to connected finance. So we've leveraged this concept through our primary visual assets, gradient background, typographic styling and tone of voice.
You've talked about the need to 'flex' the brand for different situations and future purposes. But how do you make sure that can happen in reality?
Kasey: We've built a scalable expression system that gives us greater stylistic variety and ensures our creative is consistent throughout the customer journey. How well the audience knows us dictates how we show up — from the color, imagery, motion, and typographic styling we use — to our tone of voice. Now we can turn our creativity up and down depending on what we're communicating and to whom. Sometimes it's all about Checkout.com, so we're grabbing people's attention by creating an evocative and memorable first impression. Sometimes it's all about the customer when they know us, and we know them, so we can tone it down and personalize it. Then sometimes it's in-between, and we're combining our confident and expert edges to build trust.
Erin: This works because we're clear about what we stand for, how we approach building solutions, and how we want to serve our merchants. So we're also coming from a solid base when expressing our brand. It helps people — merchants, press and everyone else — understand who we are and why we're different in every moment that they engage with us.
You decided to keep the existing logo, but every other aspect of the brand has changed. What do you love most about the new Checkout.com?
Erin: I love that you can see how it can evolve over time. It's not stuck in a given moment. It's living and breathing. I love that it feels different from others in the space — that we are now playing our own game instead of someone else's and being authentic to who we are. That's how we've built our connected payments technology. It's unique and powerful. Like our brand. I love that it's based on communication and authenticity and not in 'being pretty'. And I really love that it has flex and dynamics — that it can be dialed up and down. Plus, the movement and flow piece reflects the power we offer merchants through our product and it's a throwback to our founder's personal journey. I love that connection.
Kasey: Our new primary color palette is unique and distinctive in our space, so that's a favorite. It's vivid and bold, but not too playful, and will undoubtedly make people see and remember us. I also love how our gradient asset and 3D visual assets balance clever playfulness with boldness. Our tone of voice is a fantastic extension of our attitude as it feels strong and empowering. Overall, I'm most proud of the fact that the idea of connectivity, movement and flow is strong across every touchpoint, and our brand feels much more cohesive and ownable.
This was a significant project with a short timeframe and some added challenges due to working through the lockdown. How would you reflect on what you've achieved, and what's next?
Kasey: Our goal was always to reflect the soul of our company, starting with the Checkout.com brand purpose, values and attitude, and let that serve as a constant guide in any creative work we do. I feel we achieved that. We're now rolling out the new brand and getting people excited about the opportunities it gives us.
Erin: We're going into the next phase of our business — that move from connected payments to connected finance with our new Payouts solution. So we really need to show that evolution of what we're bringing to merchants through to our brand. We're just getting started.
Thank you to our team and creative partners:
SNASK
Lead creative agency (brand platform, visual identity and tone of voice development)
Alex Ferguson, Brave & Bright Communications
Content writing and tone of voice consultancy