5 Ways to Prepare for the Holiday Rush
We know... it's only October. But giant retail events like Black Friday, Cyber Monday and all the major shopping holidays will be here before you know it. With these wintry consumer "holidays" fast approaching, we wanted to give you plenty of time to prepare your online store for the influx of customers that are going to hit your website, which is a great problem to have – unless you're unprepared.
According to PwC's 2018 holiday outlook report, US consumers are expected to spend 5% more this holiday season compared to last year. While the majority of consumers still plan on shopping in physical stores, a massive 84% will shop online – and 75% will shop both online and in stores. According to that same report, mobile commerce is also on the rise with 39% of consumers who will use the "buy" button via their smartphones. With no signs of e-commerce shopping slowing down, getting ahead and winterizing your online store can only bring greater benefit this year – and the years to come.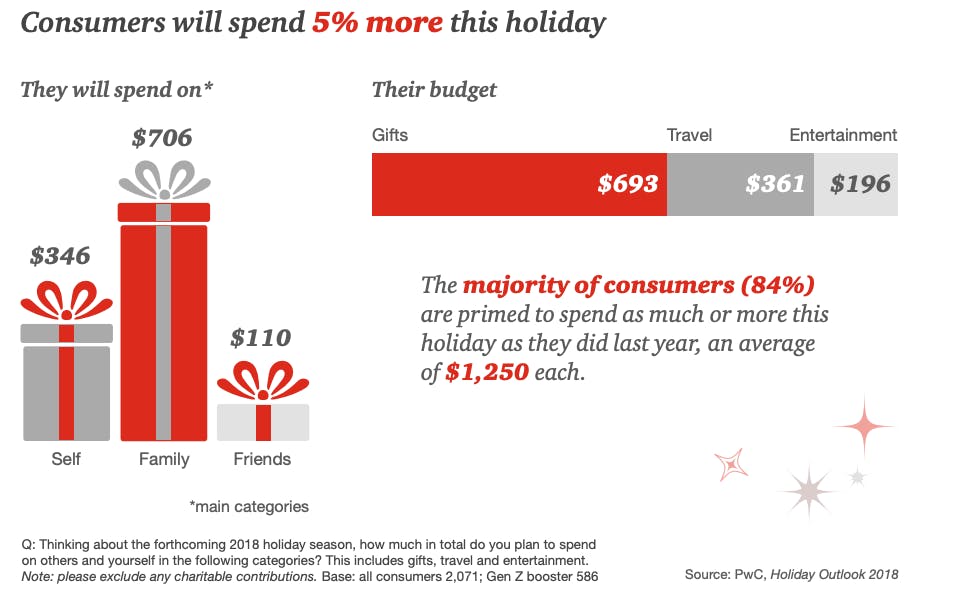 Data and image source: PwC, Holiday Outlook 2018.
But the holidays aren't just about shopping for retail goods. Travel also takes up a large share of holiday spending. While this can include travel to visit family and friends, many travelers are also using this time to take their annual leave or go on that exotic vacation away from the hustle and bustle. In 2018, UK consumers are projected to spend $19.5 billion on online travel bookings, up nearly $3 billion from 2017, that include packaged holidays, hotels and vacation rentals – and that spending is projected to increase to $24 billion by 2022.
Here are some recommendations on how to prepare your site for the holiday season that includes tips on streamlining your operations, maximizing conversions, and how to make the most (literally and figuratively) from the holiday influx – and of course, preventing your site from stalling during this very lucrative season.
Avoid a traffic jam. No, we don't mean the one in the mall parking lot. Make sure your e-commerce store can cope with the increase in web traffic. Decluttered design not only helps to guide your customers to the check out page, but it also creates less strain on your servers. Using a Content Delivery Network (CDN) will also further speed up your web performance, as load time is critical to prevent drop off. Slow processing is an easy way to lose a customer (and their trust) as they make their way to the checkout page, so speed is key.
Manage your inventory. Make sure you manage baskets or shopping carts that have been abandoned by shoppers. You don't want items to appear as out-of-stock when they're just stuck in limbo because people didn't follow through with the buy.
Be mobile-ready. Are you making the most of your mobile traffic? We see more and more traffic coming from mobile devices, but conversion rates aren't necessarily reflecting that. Dynamic website design is a good place to start, but to make the most of mobile shoppers, make sure you offer alternative payment methods like Apple Pay and Google Pay for a seamless checkout experience. Set up and integration is easy and can make a big impact on your sales.
Save card details. For loyal customers returning to your shop, make sure you have their details saved to improve their checkout experience and remove friction from the process. Stored card details improve your conversion, and with our PCI compliant integration methods, there's no need to worry about security as all details are fully encrypted – and it removes one more step for your customer toward completing their transaction.
Make it easy for international customers. If you're selling internationally, have you thought about how those customers like to pay? For example, if a large chunk of your traffic is from the US, make sure you support popular credit and debit cards such as Discover and American Express. Or if you're selling in Asia, make sure you accept popular local payments like JCB and UnionPay. And European customers will likely prefer paying with local payment methods Giropay and SEPA. Different countries prefer different methods and luckily, our team of payment experts can advise you on which ones are the most suitable for your business and geography.
The holidays can be a stressful time for both merchants and consumers, so get ahead of it by implementing these optimizations sooner rather than later to ensure your operations run as smoothly as possible before the holiday rush. Need advice on optimizing your payments before the holiday frenzy? Contact our payments team today!