Taking advantage of new trends post-COVID
Checkout recently brought together payments and ecommerce experts for a three-part series called Embracing Changing Trends in Connected Payments: Thriving in the Post-Pandemic Ecosystem. Hosted by Dan Simon of communications agency Vested, the series looked at industry developments driven by the COVID-19 pandemic.
What forces are driving the growth of digital commerce in the country?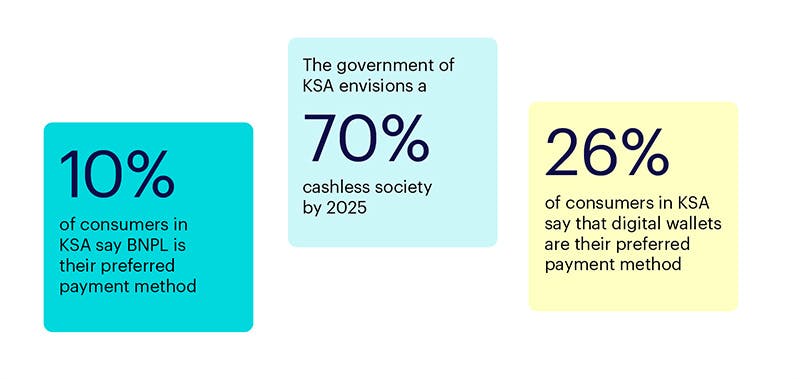 What role are payments playing in this digital transformation?
The government of KSA envisions a 70% cashless society by 2025. And the rollout of Saudi Arabia's first instant payments system in 2021 was a significant step toward this.
What are the key topics that are concerning merchants?
A challenge for many merchants is their new to the world of digital payments. So many understandably adopted a solution offered by a provider they already have a relationship with. The problem is that these providers may not be suitable for merchants. As a result, we know of some who have experienced painful issues where their provider goes down, or they experience a large volume of declined payments. These outages and issues cost merchants millions of Saudi riyal.
As a result, we're seeing a shift where merchants are being a lot more considered in the solution they are choosing. They're looking for a gateway that is stable, and one that provides them specific explanations for why a payment is declined to help them improve their payment acceptance rates.
And, it's for these reasons, that a lot are starting to speak with Checkout.com as we provide that stability, performance and support that businesses in the Kingdom seek—and as they expand throughout the region.
What support do businesses in Saudi Arabia need?
Our engagement with policymakers in the region positions us as an enabler, more than a service provider. Our goal and our commitment are to empower local companies so they can grow and expand globally. That is why our global experience adds value to the market.
Our solutions are really advanced because we build everything in-house. Merchants can leverage our data and insights to improve their businesses in the future. And we are proactive. We don't wait for the merchants to flag something. And we can rapidly capitalize on market trends. If there is any success story globally, and we believe it would fit the KSA market, we wouldn't hesitate to replicate the success story in the KSA market.
Checkout.com wants to ensure that everyone involved in the payment ecosystem works together to improve the payments industry.
What's your top prediction for the digital economy in KSA in 2023?
I think we'll witness impressive moves from the entrepreneurs in the region. They'll surprise us with their solutions — with the way they'll adopt new technology. Buy now, pay later has changed the payment system in KSA, and it's facilitated payments for a lot of consumers.
Additionally, we are going to continue to see cash usage in the country decrease in line with vision 2030. This will open up space for even more innovative ideas in the coming months.
So we are watching everything just to ensure that we, Checkout.com, can keep ahead of the trends and provide the best for our merchants.