How to drive more online spend this Ramadan
Traditionally a time of reflection and togetherness, the holy month of Ramadan is also a time of feasting and gift-giving, usually driving high levels of consumer activity in the Middle East.
Businesses should expect a seasonal surge in consumer spending around Ramadan. While this is true every year, COVID-19 has forced a huge uptake in the use of digital services. Online sales are growing. So is the number of first-time online shoppers.
In this article, we look at how to navigate the intricacies of the digital payment landscape in the Middle East, North Africa and Pakistan (MENAP). And how businesses can prepare for the peak season ahead to maximize sales and growth opportunities.
The shift to digital commerce
More than 200 million customers in the MENAP region have begun shopping online since the start of the pandemic, our research found. Moreover, the speed of year-on-year ecommerce growth has been consistent and impressive. 53% of consumers say that they are doing more of their shopping online now compared with pre-pandemic. That's up from 45% a year before, suggesting a meaningful behavior shift.
Among the biggest beneficiaries of this growth in the digital economy are the food delivery, grocery and household goods sectors. In peak seasons like Ramadan, businesses can expect more online orders, more first-time e-shoppers, over a longer period. In 2020, online visitor numbers rose 32% pre-Ramadan and almost 40% in the month of Ramadan itself. The highest ROI came during the two weeks leading up to Eid, due to last-minute gift purchases.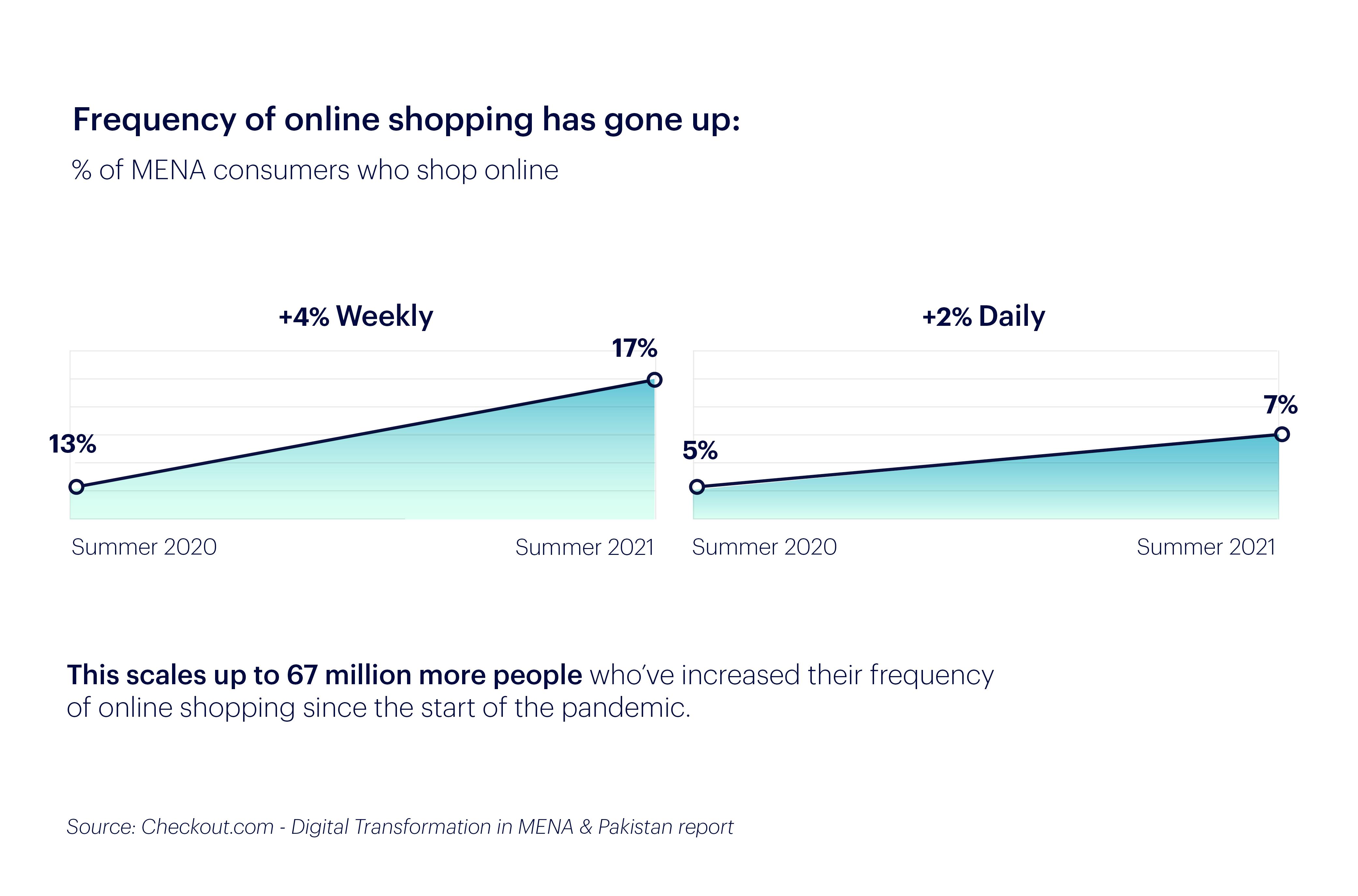 Maximizing the cross-border opportunity
The growth of digital commerce and payments has enabled new cross-border activity within the MENAP region and internationally.
Some 85% of MENA consumers made an online purchase from brands and retailers outside their home country in the past year. One-third of consumers cited cross-border shopping as their number one reason for shopping online. Consequently, there's a huge opportunity for local and global sellers to tap into this appetite for cross-border commerce.
Here are some tips to help businesses prepare for the Ramadan peak ahead:
1. Offer local payment methods
While business ambitions may be global, payment habits remain strongly local. Just as you translate your website into local languages, ensure you offer a full range of popular local payment methods in each country where you trade. And remember to accept payments in the correct local currencies.
Digital payment methods on the rise
Fueling the growth in online shopping is newer, digital ways of paying. This includes digital wallets, in-app social shopping, and buy now pay later (BNPL) options. The majority (60%) of MENAP consumers now prefer to pay via digital payment methods, a 20% year-on-year increase.
To optimize online sales during Ramadan, businesses must recognize that preferred payment methods are changing and digitizing fast.
International payment cards: Credit and debit card adoption is steadily increasing and accounts for almost 50% of e-commerce spending. This is particularly prevalent in the UAE. The country has the highest internet, credit card and ecommerce penetration rates in MENAP.
Mada cards: Saudi Arabia's local debit network has seen exponential growth in online sales. Businesses with local entities should ensure they are configured to accept mada locally or via the Visa/Mastercard networks for those selling into KSA.
Digital wallets: Apple Pay and Google Paycan increase acceptance rates by as much as 10%. And with some 66% of consumers in MENA planning to use digital wallets this year, offering this payment method can be an effective way to meet customer expectations and increase revenue.
Fawry: In Egypt, where many prefer cash-based payments, Fawry dominates as the most popular ecommerce payment, accounting for almost 60% of transactions. With offline settlement, payments are guaranteed with no chargeback risk.
Buy now, pay later: BNPL methods like Tamara have increased penetration across MENA than Europe in 2021. Up to 53% of consumers in MENA could be BNPL users in 2022. Offering BNPL can increase conversion rates and drive a significant uptick in average order value for online sellers.
Learn more about how local payment methods are the gateway to growth in MENAP.
2. Provide attractive and safe consumer platforms
Given that consumers will be scrolling through thousands of products during the peak shopping season, ensure that your websites have effective internal search tools and a comprehensive yet intuitive categorization system. This makes for a seamless online shopping experience.
3. Leverage local fulfillment and logistics planning
Establishing in-country product stock, efficient last-mile logistics, cheaper and faster delivery, and speedy returns can help win market share from global players. Last-mile logistics in GCC countries are a major pain point, so communicating with customers about delivery dates and times helps decrease cancellation and refund rates.
4. Demonstrate safety and security
Some 62% of consumers surveyed in a recent PwC retail report of the Middle East said they were concerned about having their personal information compromised. Invest in security and select partners with robust security frameworks. Adding security and verification logos, like those from Visa and Mastercard, on payment pages where users enter personal information also enhances trust.
5. Get the most out of every transaction
Your payments provider should be able to help you optimize your payment performance. That includes benchmarking your acceptance, authorization, decline rates against the market. It should also suggest strategies to deliver more successful sales. And ensuring that your risk settings match your risk appetite and customer spending habits.
Authorization rate increase
+15%
"Checkout.com is
integrated into all the region's most popular local payment methods.
Through one API, we're able to make the payment methods live across our entire portfolio."
6. Lean on your payments provider
In MENAP, relationships count for a lot. Your payments provider should have people on the ground, understand individual market nuances and take time to understand your business deeply to drive improvements for your business. It's also essential that they're plugged into the broader ecosystem locally. Relationships with the schemes, issuers and regulators enable your partner to solve issues quickly, plus provide continued suggestions for development.