Accept More in Germany with Apple Pay
Apple recently announced its launch of Apple Pay in Germany. Businesses can now accept Apple Pay payments from their customers in retail stores as well as online and in-app. German merchants who want to accept Apple Pay online can do so through Checkout.com for those cards with issuers who are enrolled. Current participating issuers include boon., bunq, comdirect, Deutsche Bank, fidor BANK, Hanseatic Bank, HypoVereinsbank/UniCredit Bank AG, N26, o2 Banking, Ticket Restaurant Edenred, and VIMpay, along with credit card companies American Express, Visa and Mastercard.
Why should I accept Apple Pay?

Apple Pay offers another level of convenience and access to customers who prefer to pay with credit or debit cards or through their Apple devices. Merchants that offer Apple Pay, in addition to integrating popular German payment methods, SEPA Direct Debit and Giropay, are primed to capture more customers by offering a wider variety of payment methods. In addition, offering Apple Pay will also simplify cross-border payments by allowing customers outside of Germany to pay for goods and services, with an added benefit of driving higher conversions as customers are getting more accustomed, and may even expect, Apple Pay as an option.
While cash is still the primary payment method of choice for a large majority of the German population, the proliferation of online shopping has the country shifting toward electronic payments including direct debit and bank transfers – the two being the most popular options for online shoppers in the region. And as e-commerce spend grows, credit and debit card usage will also be on the rise, albeit slowly and begrudgingly for some.
Card adoption rates increase.

Merchants who adopt Apple Pay will not only gain access to an underserved set of shoppers who prefer to pay with cards and smartphones, they will also be at the forefront of electronic payment adoption in the region; capturing a customer base primed to move away from cash. The total number of credit card transactions made in Germany leaped from 43.4 million in 2012 to 110 million in 2017 – an increase of more than 150% in just a 6-year period.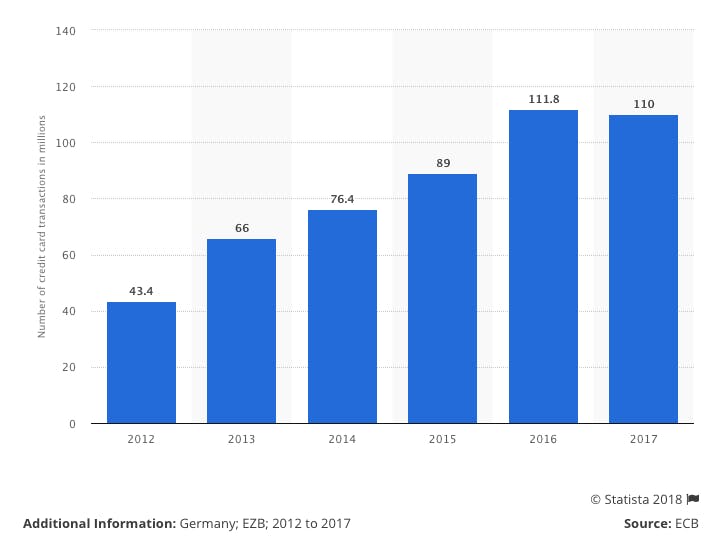 As the world goes digital, businesses – big and small, physical and online – will need to adopt electronic payment methods, in one form or another, to keep up with changing consumer demands and preferences. Offering more electronic payment methods means consumers are more likely to lean into the convenience. As for security concerns, Apple Pay's tokenization and biometric authorization features provide sophisticated, multi-layer security that aims to protect both the customer and the merchant.
As one of the most popular digital wallets today, a simple integration will give you access to millions of shoppers who prefer to purchase using Apple Pay. For more information and updates on new participants, visit Apple's support page.
Ready to get set up? Start accepting Apple Pay with Checkout.com by following our three easy steps to integration.